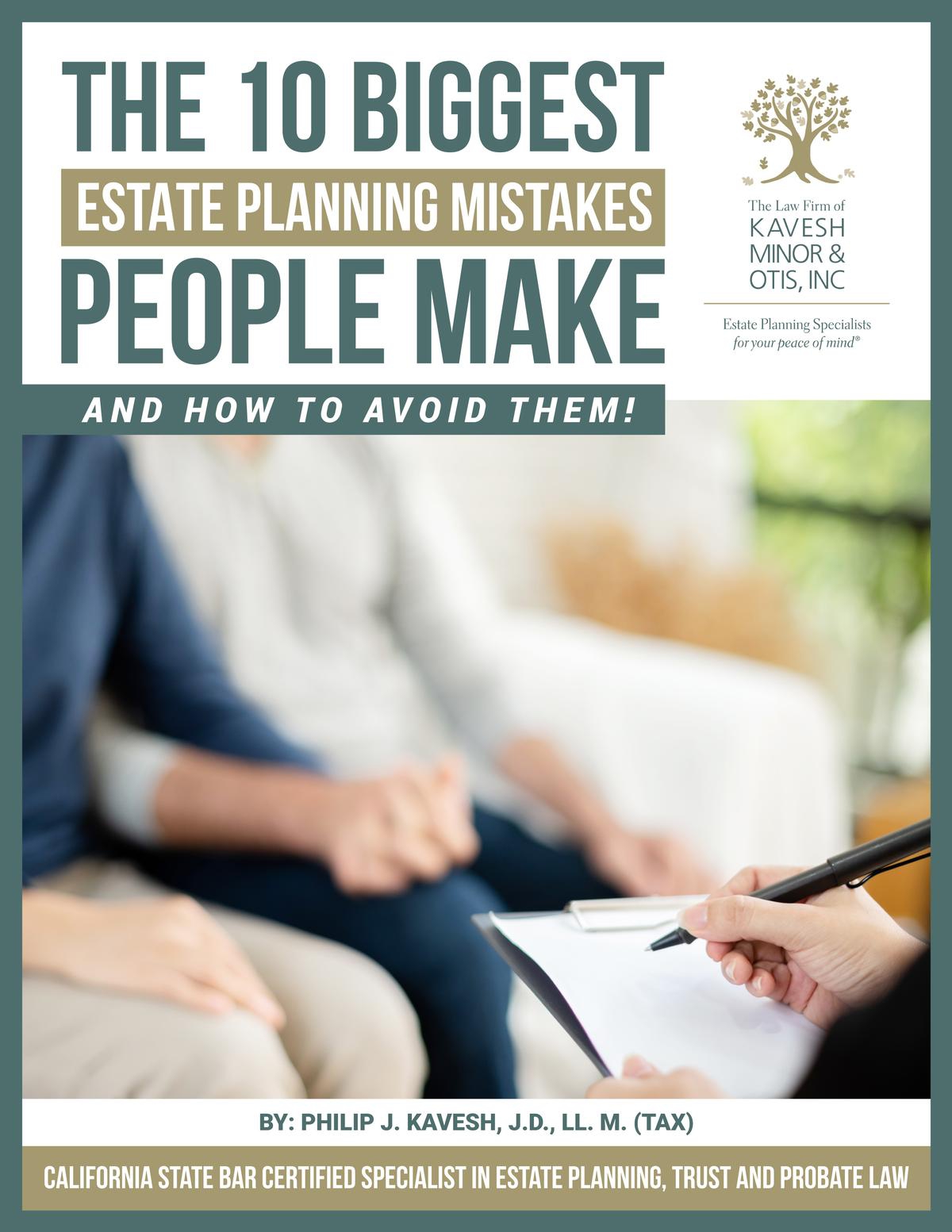 After working so hard to provide for your family, it would be a tragedy if you were unable to pass on the fruits of your labor after your passing. Unfortunately, there are plenty of mistakes that can reduce the amount of an estate and threaten your family's future. These simple errors happen far too often, usually because people do not have accurate estate planning information.
You Can Avoid Common Estate Planning Mistakes
This is why our attorney Philip J. Kavesh wrote the book, The 10 Biggest Estate Planning Mistakes People Make (And How to Avoid Them). When you download your free copy of our book, you will learn the biggest misconceptions and myths that can have a devastating effect on your relatives and property, as well as the actions you should take NOW to avoid future heartache.
The book provides key information such as:
The main benefits of a Living Trust
How Estate Taxes affect your beneficiaries' inheritances
Drawbacks of creating a Living Trust without an attorney
Why your Trust might not work properly if you are ill or incapacitated
What to do to ensure your Living Trust will avoid probate
How to decide if your beneficiaries' inheritances should be held in Trust
Special tax rules for IRAs and retirement plans
The problem with assuming that your estate plan is "done"
Attorney Phil Kavesh is a California State Bar Certified Specialist in Estate Planning, Trust and Probate Law and holds a Master's Degree (LL.M.) in Tax Law. As a founding attorney of The Law Firm of Kavesh, Minor & Otis, Inc., Phil is part of a team that has helped over 25,000 people across Southern California create customized estate plan and trust documents, as well as implementing thousands of plans after clients have passed. This has given us the insight to build and maintain an estate plan that will actually work as you intended!
This guide offers the wisdom and experience Phil has acquired in more than 30 years of practicing estate planning law. Once you have read it, you'll be equipped with the knowledge you need to provide for your loved ones and enjoy the peace of mind that comes with a well-prepared plan. Complete the form below to get yours now!